Maple Walnut Bourbon Pie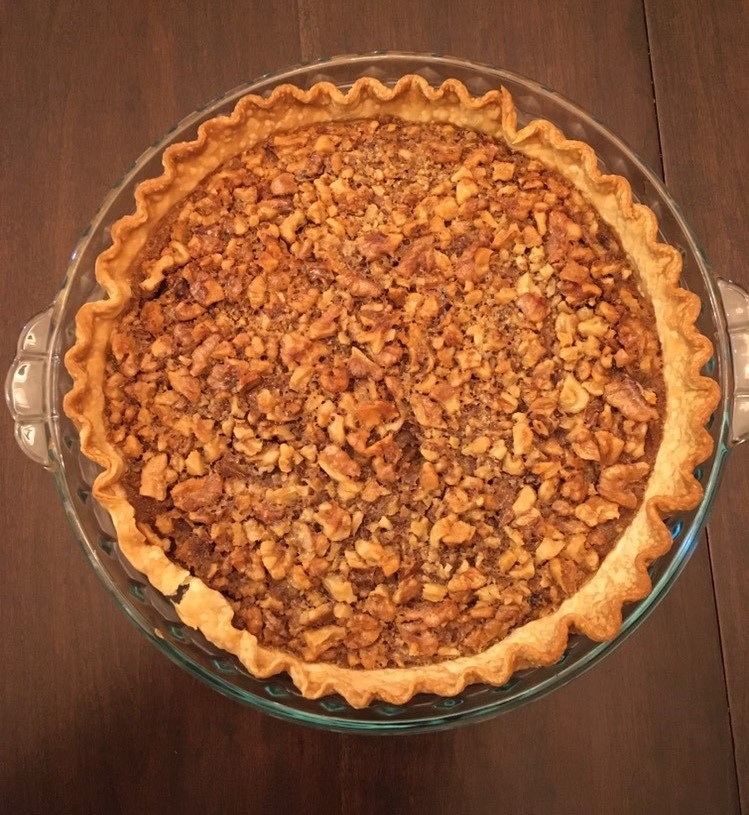 Ingredients:
1 9-inch pie shell, frozen for at least 30 minutes and
2 cups roughly chopped walnuts
2 eggs, beaten
1 cup Monroe's Orchard dark maple syrup
3 Tbsp bourbon
1/2 teaspoon vanilla extract
2 Tbsp melted butter
2 Tbsp all purpose flour
1/4 teaspoon salt
1/8 teaspoon ground cinnamon
Directions:
Make egg, maple syrup base:
Preheat oven to 375°F. In a bowl, mix together the beaten eggs, Monroe's Orchard maple syrup, bourbon, vanilla extract, melted butter. Sprinkle with flour, salt, cinnamon and nutmeg. Whisk until smooth.
Pour base over walnuts in pie shell:
Spread the chopped walnuts over the bottom of a prepared pie shell. Pour the maple syrup egg mixture over the walnuts.
Bake:
Place the pie in the preheated oven on the middle rack. Place a cookie sheet on the rack underneath to catch any drippings from the pie crust.
Bake at 375°F for 40-45 minutes. After about 20 minutes (about halfway through the baking), you may want to tent the pie crust edges with foil, or use a pie protector, so that the edges don't get burnt.
Cool:
Remove from the oven and let cool completely before serving
From the Kitchen of:
SimplyRecipes.com