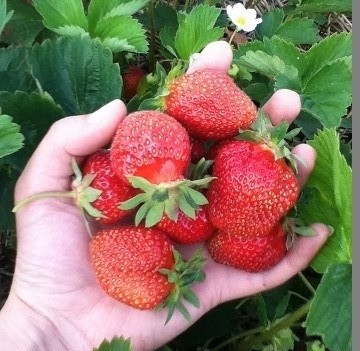 Ingredients:
baked 9 inch pie shell
6 cups fresh strawberries – about 2 quarts
melted dark chocolate: 1/2 cup semi sweet chips melted with 2 tablespoons margarine or butter – stir well to blend
3 ounces softened cream cheese
1 cup sugar (glaze)
1/2 cup water (glaze)
3 tablespoons cornstarch (glaze)
Directions:
Melt chocolate chips and margarine together in microwave approximately 30 seconds, stir to blend.  Coat the inside of pie shell with a thin layer of chocolate – save remaining chocolate to drizzle across the top of the finished pie.
Cool chocolate lined pie shell (a few minutes in the freezer works great).  Then spread softened cream cheese in pie shell – cool.
While these cool, smash some strawberries to make 1 cup.  Mix sugar and cornstarch together in a small sauce pan, then add berries and water.  Bring to a full boil stirring constantly.  Let cool slightly.
In cooled pie shell place washed strawberries points up close together, fill the spaces with glaze.  Add a second layer of strawberries and glaze over the whole pie this time covering the strawberries and filling in the spaces.
Drizzle melted  chocolate across pie in all directions.  Chill before cutting.
From the Kitchen of:
V.L.