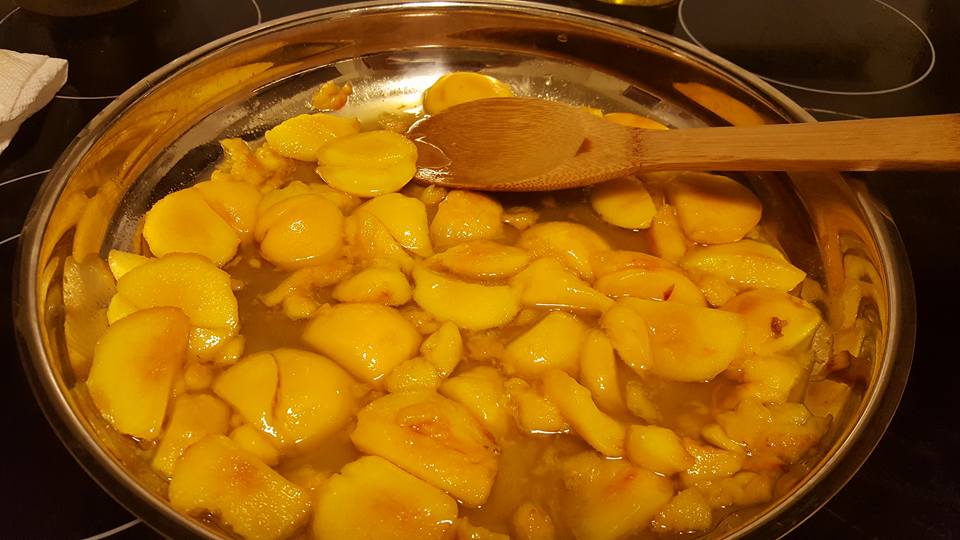 Ingredients:
Half Peck of Fresh Peaches
1/2-1 Cup Sugar
Tablespoon Fruit Fresh
Directions:
Make sure peaches are ripe, peel and slice over a bowl to capture all juice that falls from hands.  Add 1/2 cup to 1 cup of sugar and a heaping tbs. of Fruit Fresh to 2 quarts of sliced peaches.  Mix well.  Place in a gallon freezer bag and make sure all air is out of bag.  Lie the bag flat in freezer, this makes it easier to thaw. 
 The above method is great for having a bowl of peaches with your meal.  If you are making a pie from these peaches, you may need to drain some of the juice before adding the extra sugar and thickener. 
 Or…
Take ripe peaches, place them in a freezer bag, and put them in the freezer.  Upon removing peaches from the freezer, place under warm running water, and the skin comes off with your fingers.  You then have an entire frozen peach in your hands.  This can be a bit messy, but it makes the most amazing pie.  You can even make a fresh peach pie with this method.  This is easier in the beginning, but more time consuming and messy after frozen. 
 Either way makes a delicious treat in the winter…the question is messy now or messy later?
From the Kitchen of:
Monroe Family